Individual Backyard Bird Photography at the Daybreak Sanctuary -
Spring and early Summer
Book your 2014 dates now!
We offer exclusive bird photography opportunities for 1-4 people. We will provide blinds and you can photograph orioles, bluebirds, catbirds, cardinals, indigo buntings, goldfinches, and other backyard birds in our flower gardens or at feeders. We will customize your photo adventure, and we offer day rates with or without photo instruction.
Contact us
to book your date.
---
Camera Club Special/Photographers group -
Butterfly & Dragonfly Photography Field Trips at the Daybreak Sanctuary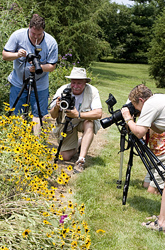 Each July and August we offer camera clubs a special photo package where participants have the opportunity to photograph butterflies and dragonflies all day at our Sanctuary. These field trips are timed when the most butterflies and dragonflies fly - approximately 30 species can be photographed in one day. Participants can photograph anywhere on our Sanctuary - butterflies in our extensive gardens and prairie or dragonflies at 2 different wetlands. Richard begins the day with a short overview on how to photograph butterflies, dragonflies, and flowers. He and Susan are available during the day to help and to answer questions on photography, species ID and gardening or habitat questions. Limited to 15 participants. Minimum 8. Now booking dates for 2014 - these popular field trips book early!
Contact us
for more info and to reserve your date.
---
Polar Bear Tours in Churchill, Manitoba
October & November 2013
Richard Day has been leading Specialist photo tours to Churchill, Manitoba to photograph the polar bears since 2000. Specialist programs cater to serious photographers and naturalists with tours that are all-inclusive; air transportation between Winnipeg and Churchill, hotel accommodations in Winnipeg and Churchill, all meals as well as a number of Tundra Buggy excursions to see the bears. A maximum amount of time is scheduled for optimum bear viewing and photography.
You can choose between a hotel- or Tundra Buggy Lodge-based stay. If you stay on the Lodge, you will have the unique opportunity of 'sleeping with the bears.' Imagine the thrill of enjoying breakfast in the morning while watching a bear on his morning stroll, just outside your window! Number of participants is limited so the photo opportunities are amazing on either of these tours!
For more information and to book your tour contact Frontiers North Adventures at
www.frontiersnorth.com
or
www.tundrabuggy.com
---
OTHER PROGRAMS & INSTRUCTION
Daybreak Imagery offers programs and workshops for conferences, festivals, and events on a variety of topics including:
A Celebration of Wings - features our award-winning photographs to celebrate the beauty, splendor and natural history of birds, butterflies, and dragonflies. The finale is accompanied by music.

Creating Habitats for Backyard Wildlife - Nearly every yard can attract some form of wildlife if you follow a few basic guidelines. We'll show you how to assess your yard, learn what's possible to attract in your space, and what improvements you can do to make it irresistible to birds, butterflies, or other backyard critters.

How to Create a Bird & Butterfly Garden - this presentation shows how to get started in landscaping your yard for birds and butterflies.

How to Create a Bird Garden - shows you how to get started in landscaping your yard for birds. Includes hummingbird gardening, choosing plants for seed-eating birds such as goldfinches and cardinals, selecting the best trees and bushes for food and shelter suitable for your area, and including water in the landscape.

How to Create a Butterfly Garden - everything you need to know to start and maintain a successful butterfly garden. This program includes basic garden design, what to plant for host and nectar plants, and recommended plants that butterflies can't resist.

How to Create a Hummingbird Garden - everything you need to know to start and maintain a successful hummingbird garden. This program includes basic garden design, what to include (or not!) in a hummingbird garden, and recommended plants that the hummers can't resist. Lots of examples using Daybreak Imagery's beautiful photographs.

The Polar Bears of Churchill - takes you on a photo excursion to the tundra along Hudson Bay as you learn the natural history of North America's largest, most fascinating mammals.
We also offer photography programs and workshops:

Backyard Photography
Close-up Photography
Nature Photography Basics
Please contact us for information on these programs for your club, organization, or conference.
For those wanting personalized one-on-one photography or backyard habitat instruction, please contact us. We'll be happy to customize a workshop or shoot to suit your needs with personal photo instruction, use of our photo blinds, and private tours of our sanctuary.