Vegas Lights Night Walk in conjunction with the 2019 NANPA Summit
Sunday, February 24, 2019 5:00-7:30pm
Las Vegas, Nevada

Grab your tripod, camera, wide-angle lens, walking shoes, and a warm jacket. Join us for a short walking tour of the area around the Westgate conference hotel with our cameras. Leaders Sean Fitzgerald, Richard Day, and Kathy Adams Clark will teach, offer suggestions, and guide the group. Be prepared to walk a half-mile and maybe climb some stairs. Travel light. Meet in front of the Elvis statue in the lobby of the hotel. Advance registration is required.
NANPA Upper Peninsula Michigan Regional Event
October 3-6, 2019
Based in Munising, Michigan

Join Richard Day and Hank Erdmann in the Upper Peninsula of Michigan photographing in the Hiawatha National Forest and in Pictured Rocks National Lakeshore shooting sunrises, sunsets, forest lakes, early autumn color, waterfalls and the Lake Superior shore.
We'll be able to photograph from sunrise to sunset as the days grow shorter in the early autumn. We'll photograph small interior lakes and forests in the Hiawatha with lots of opportunities of all genres; landscapes to intimate landscapes and close-ups. At Pictured Rocks we'll photograph the shoreline of Lake Superior, streams entering the lake, sand beaches, waterfalls and more. For more information and to register.
---
Individual Backyard Bird Photography at the Daybreak Sanctuary -
Spring and early Summer

We offer exclusive bird photography opportunities for 1-4 people. We will provide blinds and you can photograph orioles, bluebirds, catbirds, cardinals, indigo buntings, goldfinches, and other backyard birds in our flower gardens or at feeders. We will customize your photo adventure, and we offer day rates with or without photo instruction.
Contact us
to book your date.
---
Camera Club Special/Photographers group -
Butterfly & Dragonfly Photography Field Trips at the Daybreak Sanctuary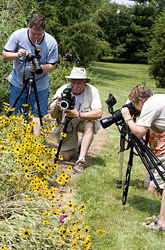 Each July and August we offer camera clubs a special photo package where participants have the opportunity to photograph butterflies and dragonflies all day at our Sanctuary. These field trips are timed when the most butterflies and dragonflies fly - approximately 30 species can be photographed in one day. Participants can photograph anywhere on our Sanctuary - butterflies in our extensive gardens and prairie or dragonflies at 2 different wetlands. Richard begins the day with a short overview on how to photograph butterflies, dragonflies, and flowers. He and Susan are available during the day to help and to answer questions on photography, species ID and gardening or habitat questions. Limited to 15 participants. Minimum 8. Now booking dates for 2014 - these popular field trips book early!
Contact us
for more info and to reserve your date.
---
OTHER PROGRAMS & INSTRUCTION
Daybreak Imagery offers programs and workshops for conferences, festivals, and events on a variety of topics including:
A Celebration of Wings - features our award-winning photographs to celebrate the beauty, splendor and natural history of birds, butterflies, and dragonflies. The finale is accompanied by music.

Creating Habitats for Backyard Wildlife - Nearly every yard can attract some form of wildlife if you follow a few basic guidelines. We'll show you how to assess your yard, learn what's possible to attract in your space, and what improvements you can do to make it irresistible to birds, butterflies, or other backyard critters.

How to Create a Bird & Butterfly Garden - this presentation shows how to get started in landscaping your yard for birds and butterflies.

How to Create a Bird Garden - shows you how to get started in landscaping your yard for birds. Includes hummingbird gardening, choosing plants for seed-eating birds such as goldfinches and cardinals, selecting the best trees and bushes for food and shelter suitable for your area, and including water in the landscape.

How to Create a Butterfly Garden - everything you need to know to start and maintain a successful butterfly garden. This program includes basic garden design, what to plant for host and nectar plants, and recommended plants that butterflies can't resist.

How to Create a Hummingbird Garden - everything you need to know to start and maintain a successful hummingbird garden. This program includes basic garden design, what to include (or not!) in a hummingbird garden, and recommended plants that the hummers can't resist. Lots of examples using Daybreak Imagery's beautiful photographs.

The Polar Bears of Churchill - takes you on a photo excursion to the tundra along Hudson Bay as you learn the natural history of North America's largest, most fascinating mammals.
We also offer photography programs and workshops:

Backyard Photography
Bird Photography
Butterfly Photography
Close-up Photography
Image Management
Image Post-processing using Photoshop and Lightroom
Nature Photography Basics
Panoramic Photography
Please contact us for information on these programs for your club, organization, or conference.
For those wanting personalized one-on-one photography or backyard habitat instruction, please contact us. We'll be happy to customize a workshop or shoot to suit your needs with personal photo instruction, use of our photo blinds, and private tours of our sanctuary.